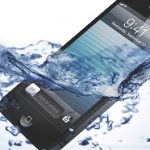 Dropped your iPhone in the water? Have you ever known about keeping it covered in rice or silica gel bundles to fix it like nothing at any point occurred?
You'll discover a great deal of these DIY methods everywhere throughout the Internet, however, in all actuality none of them function as promoted. At the point when your iPhone gets wet, look for an expert and get it fixed. iPhone water harm isn't as little an issue as you'd might suspect.
Our water damage service is one of our most normal fixes and we've had the option to effectively return a large number of cell phones and tablets to their on edge proprietors all-around great.