Waiting for your phone to charge is the only thing worse than having it die. Thankfully, there are a few gadgets and settings you can adjust to bring your iPhone back to life in a fraction of the time it took before. Here's everything you need to know about charging your iPhone more quickly and extending the life of your battery.
Charge Your iPhone Faster Using a Wall Charger
Plugging your iPhone into a power charger is the quickest way to charge it. With an 18W (watt) or higher power adapter, you may charge your iPhone even quicker if you have an iPhone 8 or a newer model. For rapid charging, you'll need a 20W power adaptor if you have an iPhone 12.
Since the iPhone 8, all iPhones have had a function called fast charging, which allows the battery to be charged to 50% in roughly 30 minutes. In comparison, testing shows that charging an iPhone to 50% capacity using the 5W charger that comes with most models takes roughly 90 minutes.
With the iPhone 11, Apple has only ever offered a fast-charging power adaptor. If you have a different model, you'll have to purchase a quick charging power adapter separately.
On the bottom of most power adapters, you'll find the wattage printed. If not, multiply the voltages and amps to get the watts. A charger with a 10V and 2A output, for example, has a wattage of 20W.
It's advisable to acquire an Apple-branded power adapter or one that has been certified to work with your iPhone model to ensure that it supports rapid charging. If you buy a third-party power adapter, it must also support USB Power Delivery, according to Apple (USB-PD).
If you use a computer instead of a power charger to charge your iPhone, Apple suggests that you keep the computer switched on. Otherwise, you risk draining rather than charging your iPhone's battery.
Using a Fast-Charging Cable is also recommended
You'll also need a USB-C connection to make use of your iPhone's rapid charging features. Unlike older USB-A cables, which are restricted to 12W of power, the newer USB-C cables can supply up to 100W of power to devices.
If you're planning to buy a USB-C to Lightning cable from a third party, make sure it's MFi (Made for iPhone) certified. Also, instead of the earlier C89 or C48 versions of a USB-C to Lightning cable, look for the modern C94 version.
Reduce the brightness of your screen to save battery life
Turning down the brightness of your iPhone's screen is one of the simplest methods to make it charge quicker. To do so, go to your iPhone's Settings app and select Display & Brightness. Then, under Brightness, drag the slider to the left.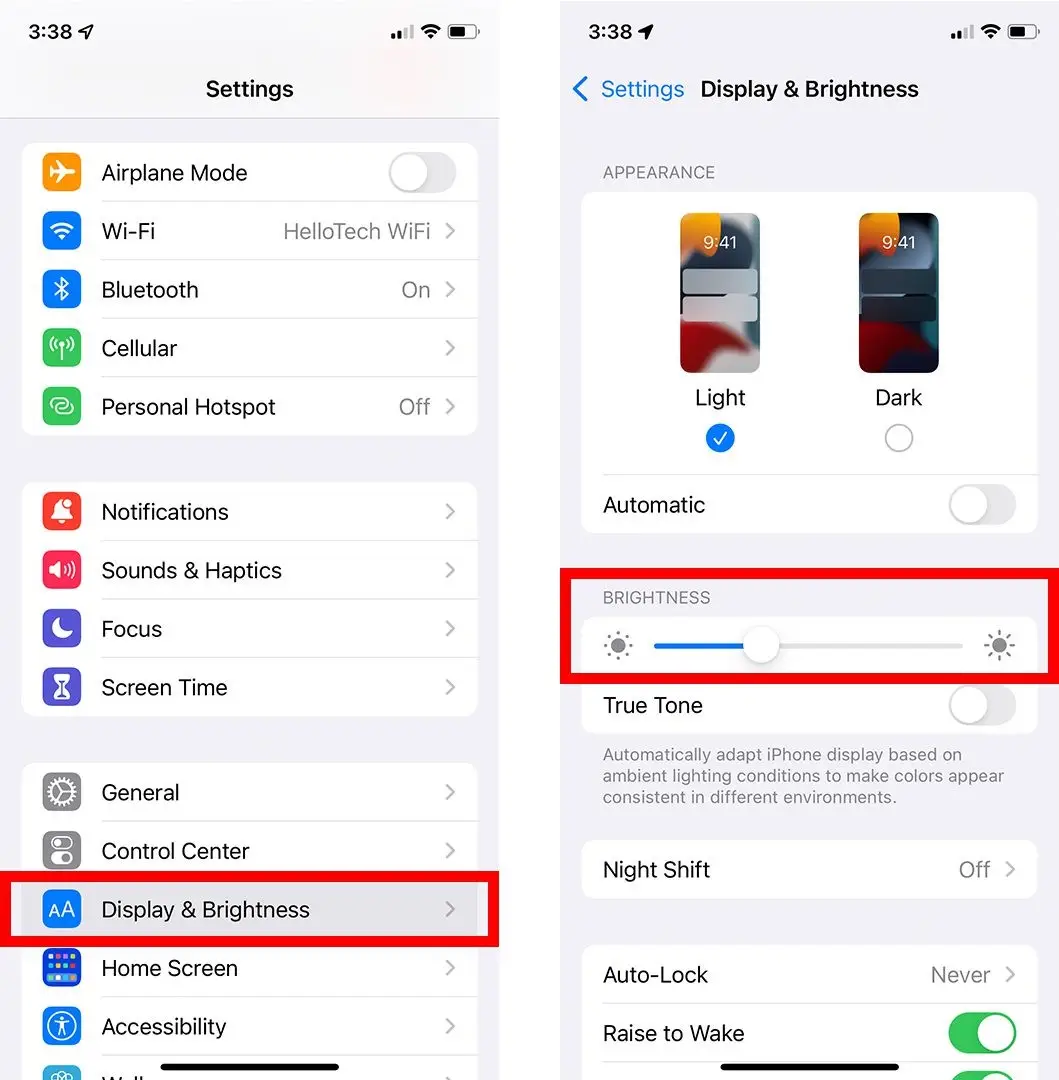 The brightness slider is also accessible through your iPhone's Control Centre. Swipe down from the top-right corner of an iPhone X or later to do so, or swipe up from the bottom of an iPhone 8 or older to do so. Then, with the sun icon down, press and drag the brightness slider down.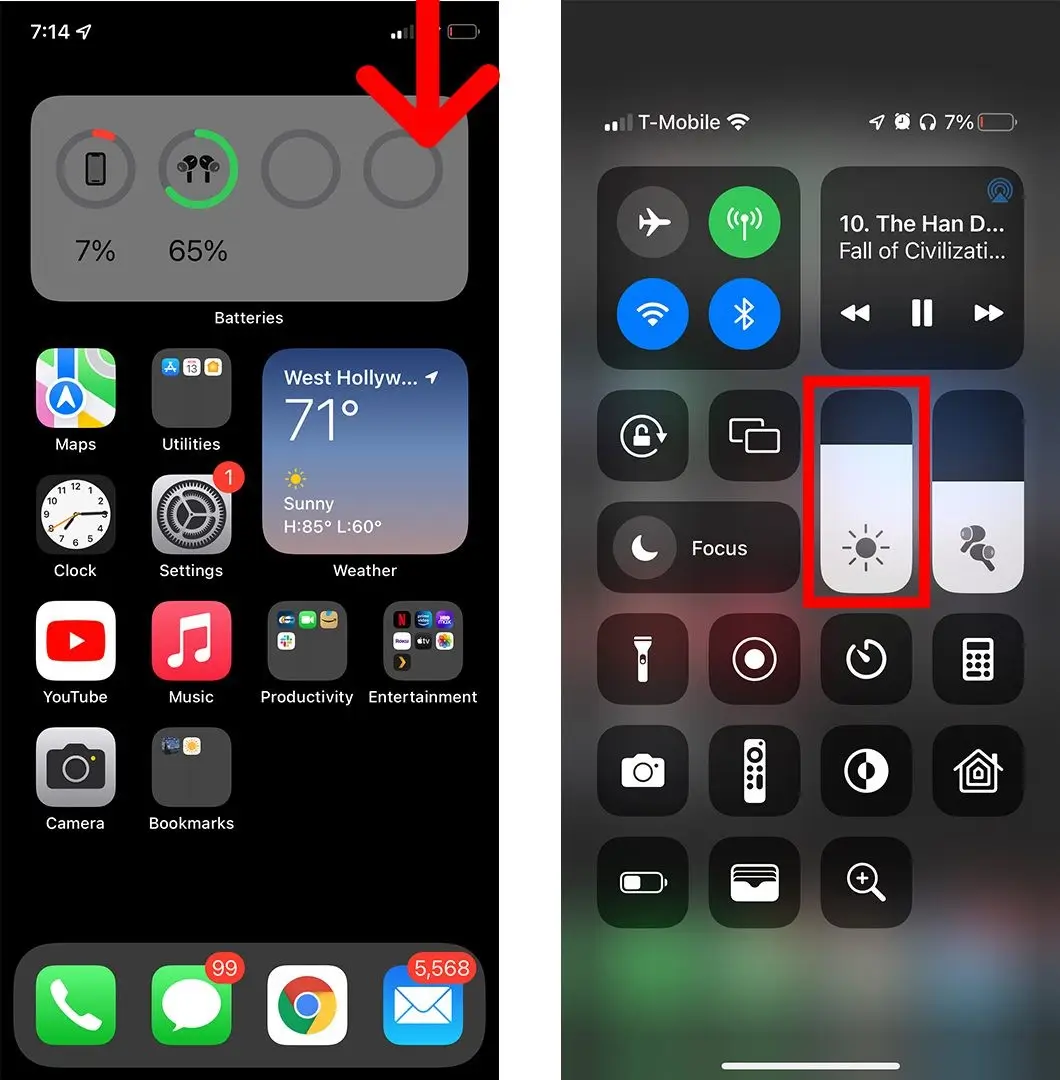 Save Battery by Using Dark Mode (and Your Eyes)
Switching to Dark Mode saves an average of 39-47 percent of your battery power, according to Perdue University research. This, however, only applies to devices with OLED panels, which include some iPhone X and later models.
Go to Settings > Display & Brightness > Dark at the top of your screen to enable Dark Mode. You can also get to this option by touching and holding the brightness slider in the Control Center. Then, in the bottom-left corner, press the Dark Mode symbol.
Turn off your phone and put it on airplane mode (and Use WiFi Calling)
Because WiFi connections consume less power than cellular networks, Apple recommends using Airplane Mode to save your iPhone's battery life. Airplane Mode, on the other hand, disables your iPhone's cellular data, allowing you to only make and receive calls over WiFi.
Go to Settings and press the slider next to Airplane Mode to activate Airplane Mode on your iPhone. To activate Airplane Mode, open the Control Center and tap the plane icon in the top-left corner of the screen.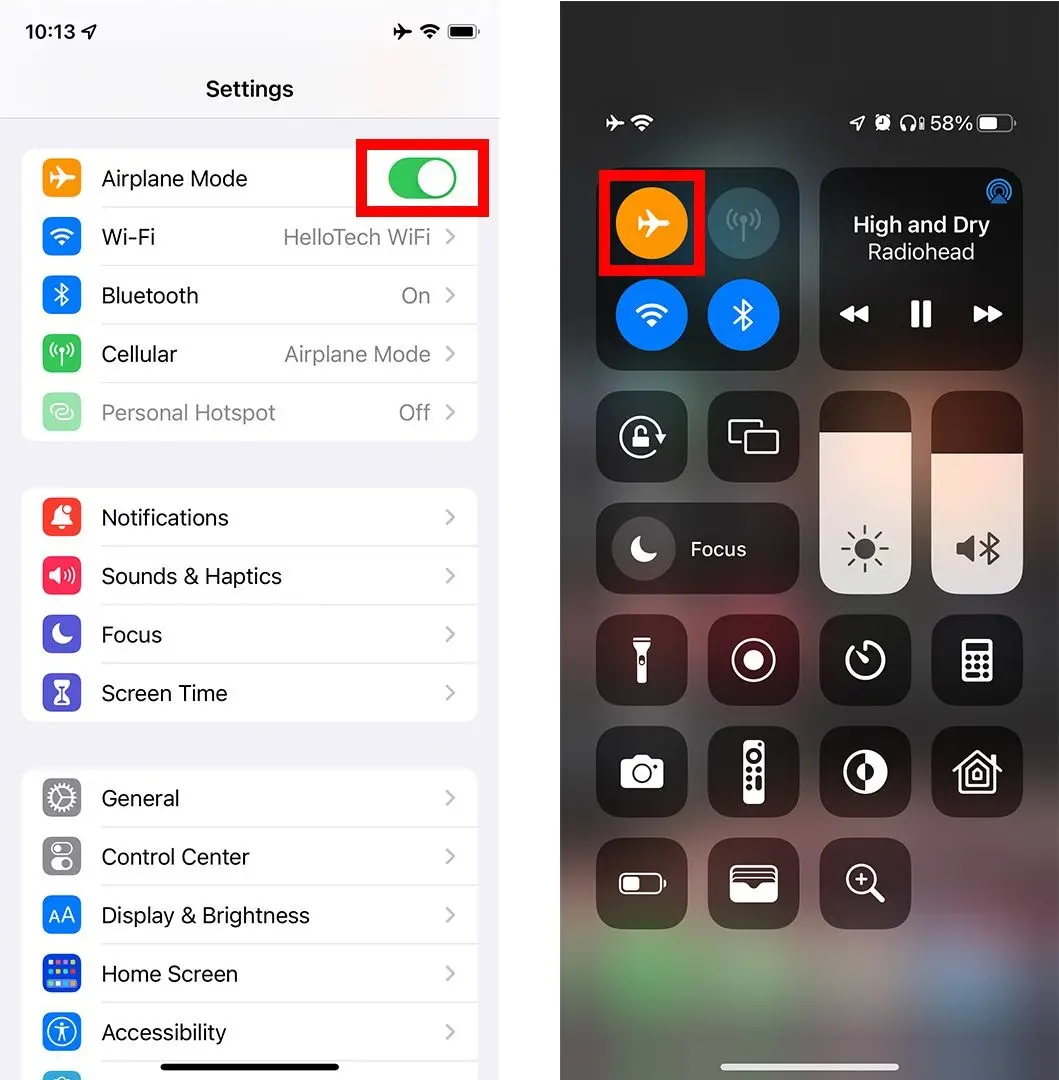 The cellular data on your iPhone will be deactivated after you enable Airplane Mode. WiFi and Bluetooth may also be off, but you can quickly restore them by pressing their icons in the Control Center or activating them in Settings.
To Charge Your iPhone More Quickly, Enable Low Power Mode
Enabling Low Power Mode when charging your iPhone is one of the greatest strategies to ensure that it charges quickly. By minimising animations and stopping some background operations, this function lowers screen brightness and improves iPhone performance.
Go to Settings > Battery and press the slider next to Low Power Mode to enable Low Power Mode on your iPhone. By visiting the Control Center and pressing the battery symbol, you may quickly activate the Low Power Mode.
You can also access Insights and Suggestions from here, which provides you advice on how to preserve battery life, or scroll down to discover which apps use the most juice. Once your iPhone is charged to 80%, Low Power Mode will be removed automatically.
To fully charge your iPhone, turn off Optimized Battery Charging
In order to extend the battery life of iPhones, Apple has included a new feature that prevents your iPhone from charging over 80% when it is attached to a charger for an extended length of time. You may disable a function called Optimized Battery Charging if you need to charge your iPhone 100 percent faster.
To disable Optimized Battery Charging on your iPhone, go to Settings > Battery > Battery Health and push the Optimized Battery Charging slider to the off position. You will then see pop-up advising you that using this function may lower your battery life, so you should only use it for a short time.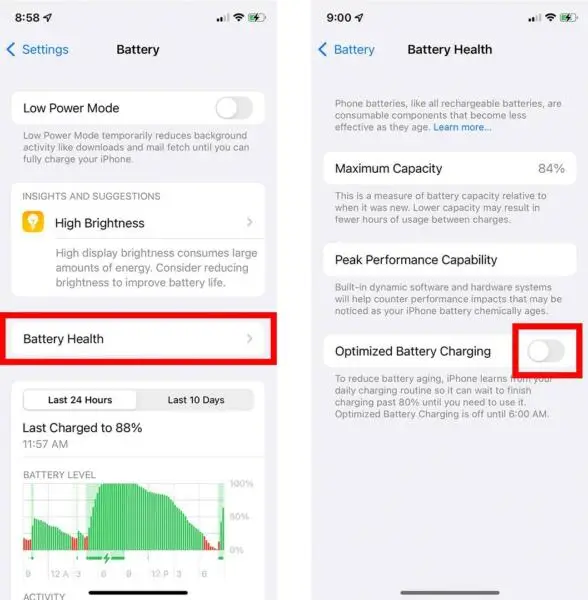 You can also check information about the health of your iPhone's battery, including its current Maximum Capacity, from here. This indicates how much power your battery can hold in comparison to when it was brand new. If your iPhone's battery is having problems, you may see extra warnings on this screen.
Remove Your iPhone Case to Prevent Overheating
iPhones will now slow down or stop charging if the device becomes too hot, to prevent battery damage. Furthermore, because charging your battery creates a lot of heat, Apple suggests removing your iPhone from its cover if it becomes too hot.

You may also keep your iPhone from overheating by charging it in a cool, out-of-the-way location away from direct sunshine.
To make your iPhone charge faster, turn it off
While it may be tough, totally shutting off your iPhone is the quickest way to charge your battery. Nothing will take up your battery if you don't use it while it's charging. Additionally, shutting down your iPhone might clean its cache and make it perform quicker.
Go to Settings > General and scroll all the way down to Shut Down to switch off your iPhone.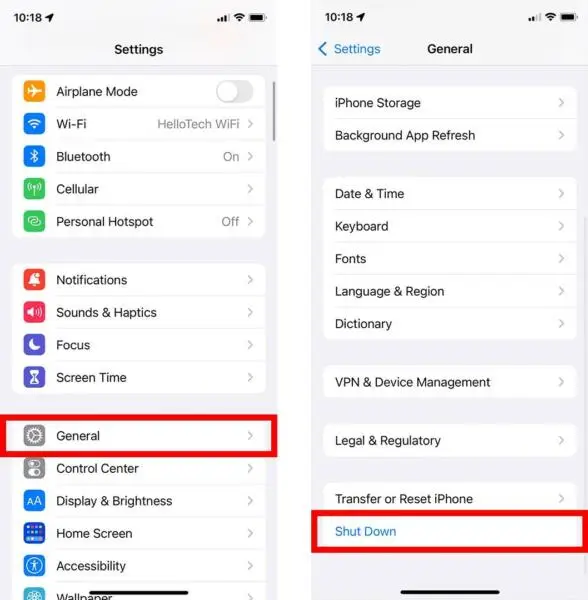 You may need to replace your iPhone if it has been damaged by water. M6Repairs.co.uk can help you choose one that is right for you.
SHARE THIS POST: